Overview
At United City Bikes we have developed a bike that takes urban mobility to the next level!
THE ONE is not just another electric folding bike. We have created the ultimate experience for riders by making an electric bike that is light, compact, durable, flexible and affordable. At only 12.5 kg, THE ONE is currently the lightest folding electric bike on the market. It contains more than 20 patents, is only 25 cm wide when folded, folds in less than 10 seconds and boasts many more cool features!
/ World's Lightest Electric Folding Bike /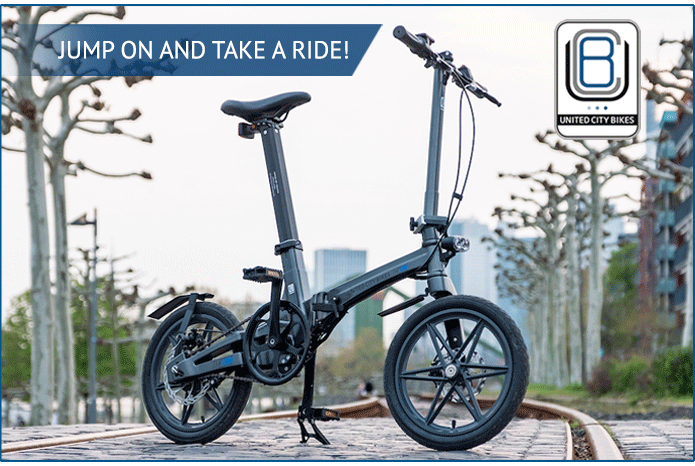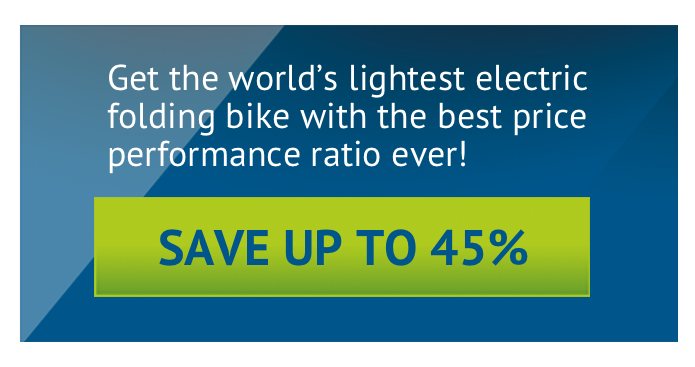 / Lightweight Magnesium Alloy Frame /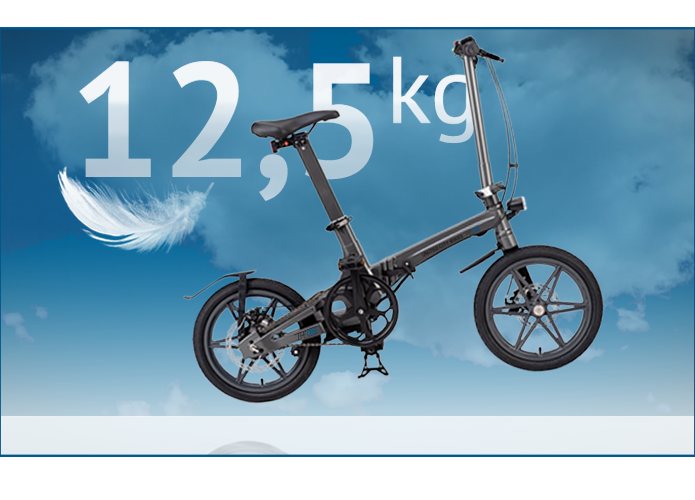 What makes our electric folding bike so light? 
THE ONE's signature and smart design is due to its superior patented magnesium alloy frame. This frame weighs 35% less than other premium aluminum frames on the market.
Our custom-built, 250W high speed hub motor weighs 65% of a conventional motor, at only 2 kg. High quality materials, like our state-of-the-art lithium-ion battery cells, and our single-sided fork technology contribute towards this innovate design and its light weight of only 12.5 kg!
/ Leading Folding Process /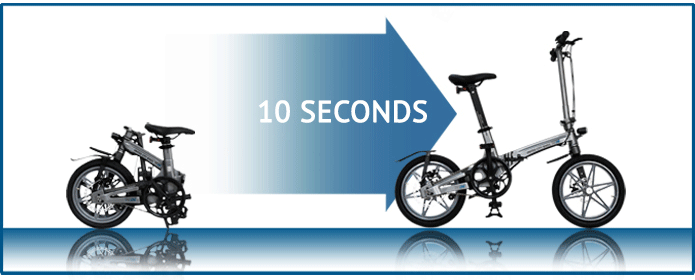 THE ONE's folding technology is the best on the market.
THE ONE's folding mechanism is quick and easy, making it perfect for everyday use! Foldable in less than 10 seconds to a compact width of just 25 cm, and makes it ideal for your go-to choice for your commute (folded dimensions: 25 x 64 x 76.5 cm).
Its compact size is made possible because of its single-sided fork technology and a patented magnetic system that makes the two wheels stick tightly and firmly together. Compact and sturdy when folded, THE ONE can be conveniently carried, just like a briefcase!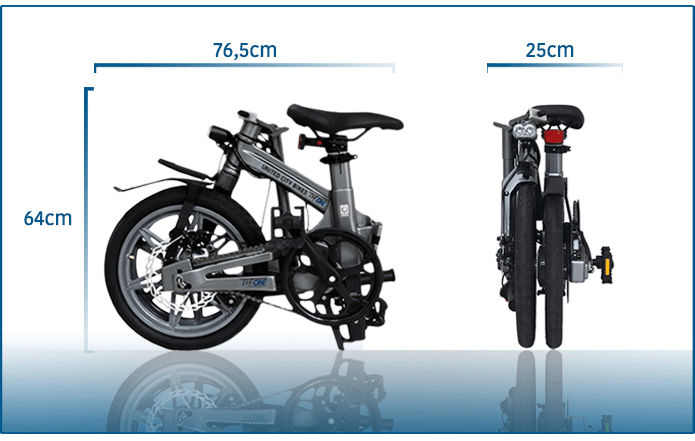 /  Charge It Anywhere In 3.5h (up to 60km) /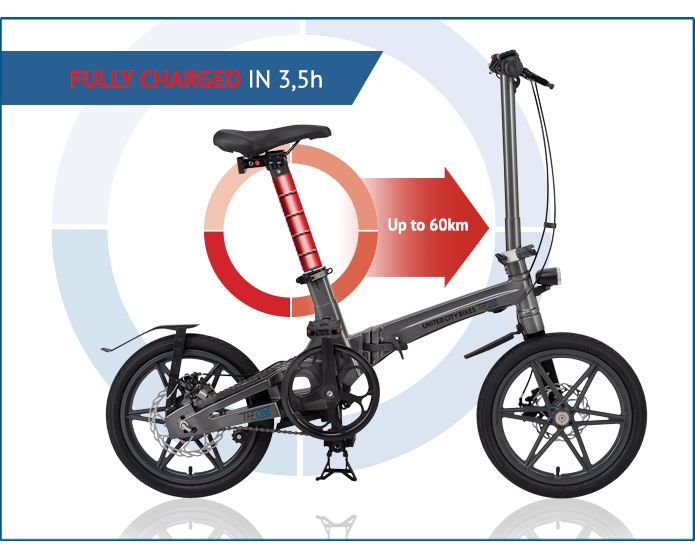 Where is the battery?
Batteries aren't something you need to see - except when you're charging them. On THE ONE, we've integrated the battery into the seatpost to retain its slim frame design. Charging stations aren't prevalent yet, and we wanted to make sure that you have the option to charge the battery without having to carry your bike up those stairs. 
Simply remove the seatpost to take out the battery for charging, whether in your apartment or at your office. We use state-of-the-art battery cells from well-known manufacturers like Samsung and Panasonic. Take THE ONE out for a ride of up to 60 km (37.28 miles) on only one charge! 
/ Waterproof /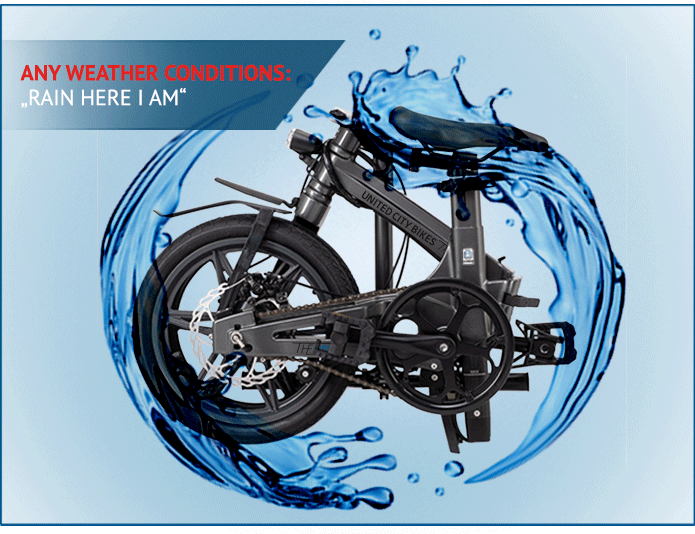 Ride every day, rain or shine
Made of high-grade magnesium alloy, the frame incorporates premium technology, ensuring a system that is very robust and fully waterproof.
All circuit connections are integrated into the frame and not exposed to exterior conditions. Regardless of the weather, THE ONE is the ultimate city bike and the perfect partner to help you navigate the urban jungle every day!
/ High Performance Motor /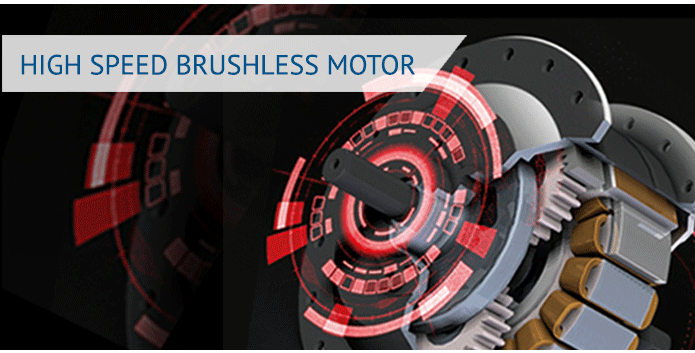 Customized for highest standards
THE ONE has a 250-watt customized high speed, brushless motor that allows for a high energy conversion rate of 95%. This translates to a 30% higher performance compared to a conventional motor. Greater efficiency means riding longer distances and less battery energy consumption!
The U.S. version is equipped with a Power Assist System (PAS) and a thumb throttle for straight electronic mode (max. speed of 32 km/h or 19.9 mph). The EU version comes with a pedal assisted mode only (max. speed of 25 km/h or 15.5 mph) to comply with European safety legislations. Travel further and faster! This e-bike is for commuters and cyclists of all fitness levels.
/ Smart And Modern Urban Design /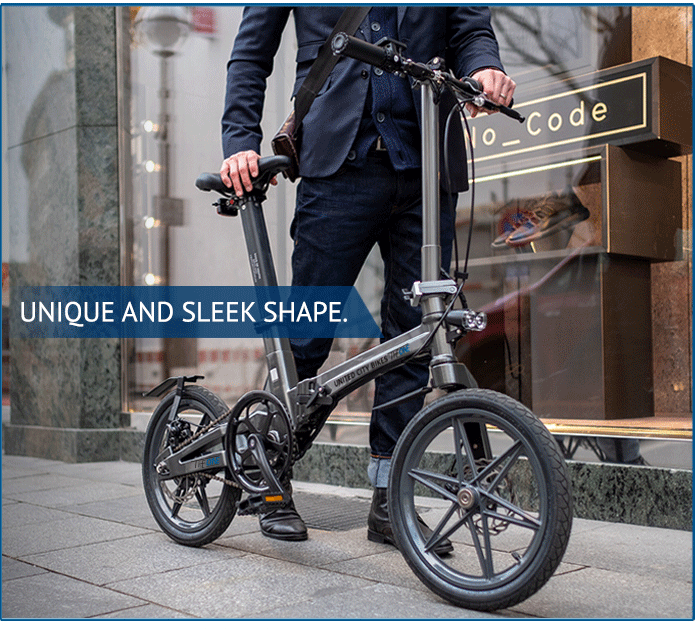 The new urban look
The minimal look is made possible with the gear drive system and the battery integrated in its body and the seat post respectively. The top-quality patented framework of the bike gives the bike a unique sleek look as well as a tough body with a maximum load of 100 kg (220.46 lbs). All the wires have been neatly tucked away inside the framework making this also water and weather resistant. The patented convenient built-in bracing foot system keeps the bike standing on its own.
/ 20 Patented Features For The Best Riding Experience /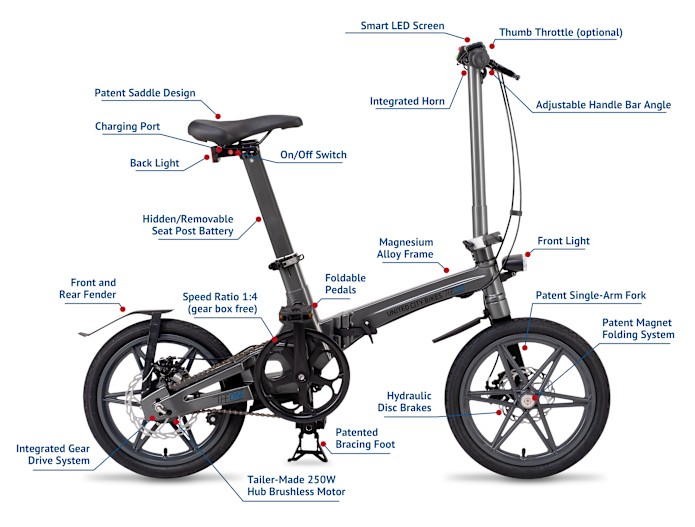 / A Closer Look At What Makes THE ONE The Ultimate City Bike /











 / Choose Your Favorite Color /
/ Ready To Go! Trusted Serial Production /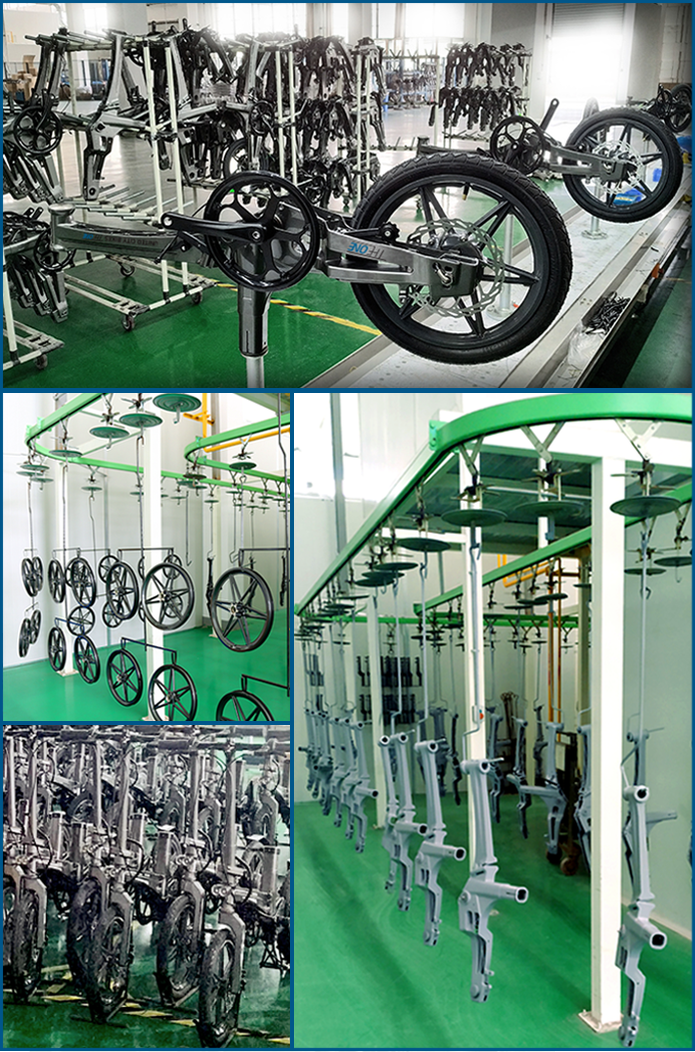 / Frequently Asked Questions /
How much weight can THE ONE handle?
Does THE ONE come in different sizes?
I can't see the battery - where is it?
Can the battery be removed?
How is the quality of THE ONE?
Why is your electric folding bike so light?
The price is very low for an electric folding bike. How is that possible?
What is the THE ONE's maximum speed?
Can I still ride THE ONE when the power mode is turned off?
How do I buy spare parts or service the bike? Can I go to any bike shop?
What kind of warranty is offered?
How do I get a refund?
Can I order US VERSION even though I do not live in US?
How is THE ONE delivered and is it easy to assemble?
Can I still ride THE ONE when the power mode is turned off?
THE ONE is folded only 25cm in width, how is that possible?
Is THE ONE still a prototype?
How much does shipping cost?
Who is responsible for any additional taxes, duties or VAT/GST?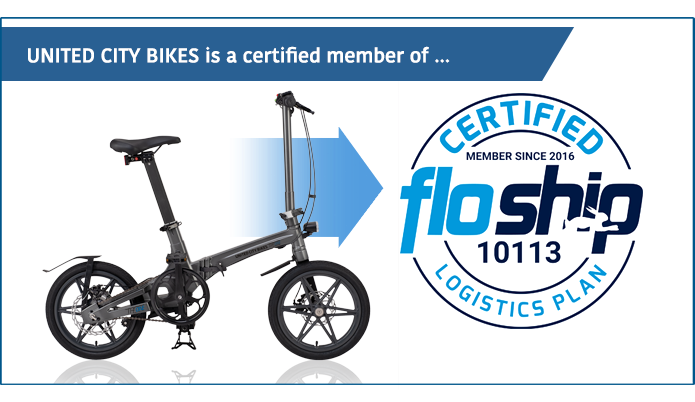 / Deutsche Version  /
Überblick
Wir von United City Bikes haben ein Fahrrad entwickelt, das urbane Mobilität auf einen neuen Level hebt!
THE ONE ist nicht nur irgend ein elektrisches Faltrad. Es ist extrem leicht, kompakt, langlebig, felxibel, sehr erschwinglich und garantiert ein ultimatives Fahrerelbnis.
Mit nur 12,5 kg ist THE ONE das derzeit leichteste elektrische Faltrad auf dem Markt. Es ist im gefalteten Zustand nur 25 cm schmal, lässt sich in weniger als 10 Sekunden falten und bietet viele weitere coole Funktionen! Mehr als 20 Patente wurden auf dieses Produkt angemeldet.
/ Mit 12,5kg das leichteste, elektrische Faltrad der Welt. /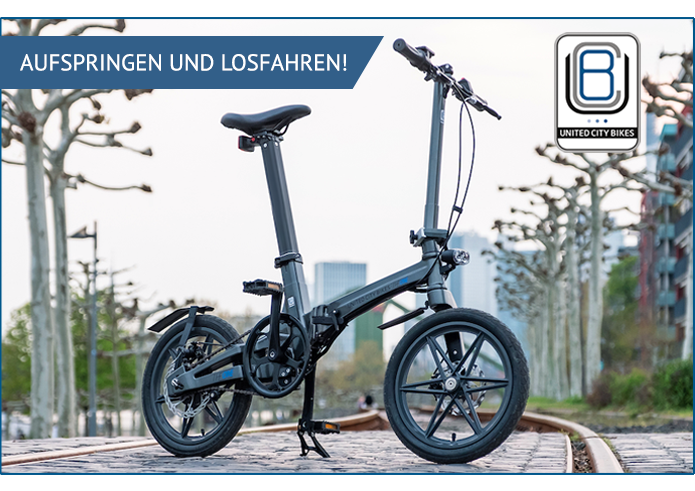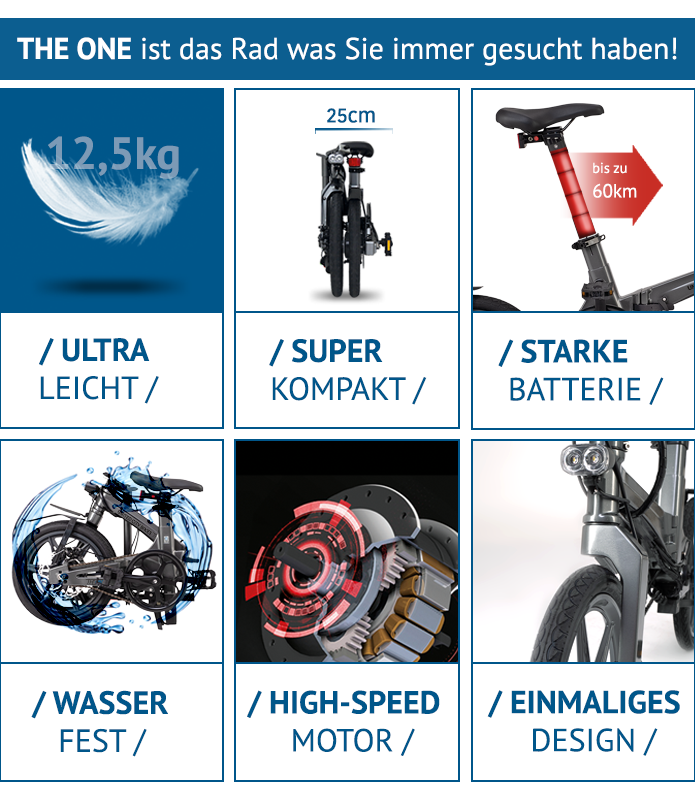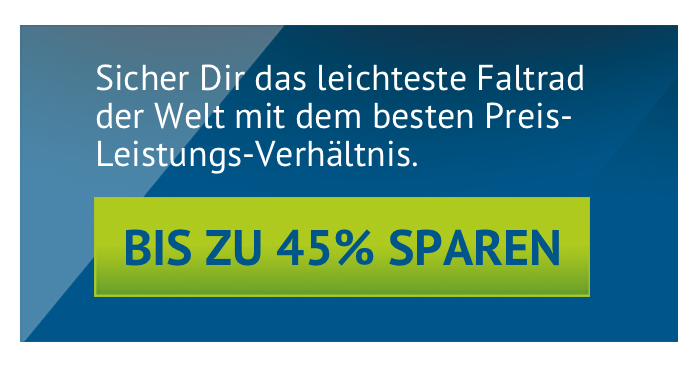 / Leichter Rahmen aus Magnesiumlegierung /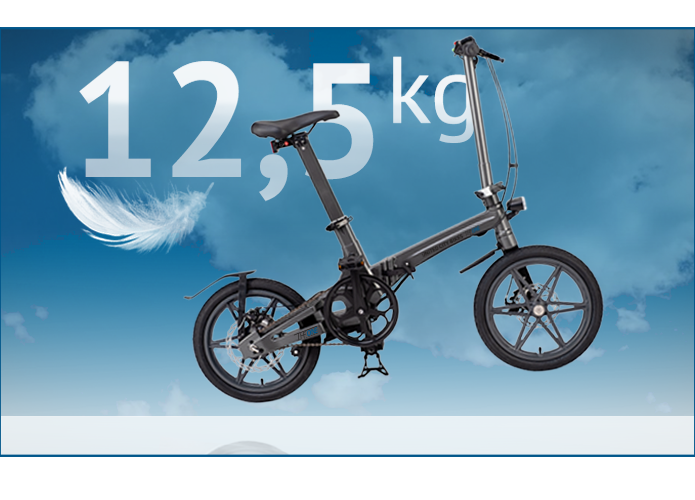 Was macht unser elektrisches Faltrad so leicht?
Das charakteristische und elegante Design des THE ONE beruht auf seinem einzigartigem, patentierten Rahmen aus Magnesiumlegierung. Dieser Rahmen wiegt 35% weniger als andere Premium-Aluminiumrahmen auf dem Markt.
Unser maßgeschneiderter 250-W-Hochgeschwindigkeits-Nabenmotor wiegt nur 65% eines herkömmlichen Motors bei nur 2 kg. Hochwertige Materialien wie unsere hochmodernen Lithium-Ionen-Batteriezellen und unsere Einarm-Gabeltechnologie tragen zu diesem innovativen Design und seinem geringen Gesamtgewicht von nur 12,5 kg bei!
/ Führender Faltprozess /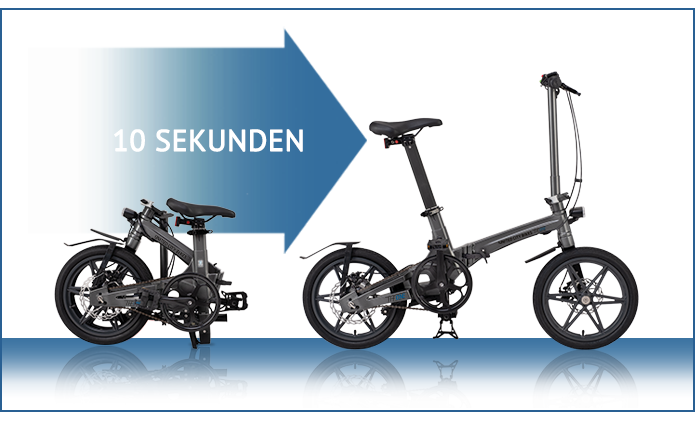 Die Falttechnologie des THE ONE ist die beste auf dem Markt.
Der Klappmechanismus des THE ONE ist schnell und einfach zu durchzuführen und ist somit perfekt für den täglichen Gebrauch geeignet! In weniger als 10 Sekunden faltbar auf eine kompakte Tiefe von nur 25 cm. Eben ideal für Pendler, die flexibel die vorhandenen Fortbewegungsmittelder Großstadt nutzen möchten. Das Faltmaß beträgt: 25 x 64 x 76,5 cm.
Die kompakte Größe wird durch die einarmige Gabeltechnik und ein patentiertes Magnetsystem ermöglicht, das die beiden Räder fest zusammenhält. Im zusammengeklappten Zustand ist THE ONE kompakt und robust und kann wie eine Aktentasche bequem getragen werden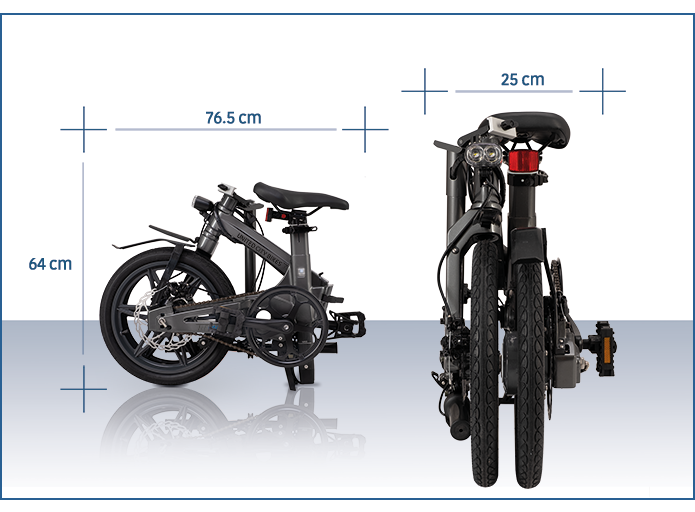 / Überall Aufladen in nur 3,5 Std. (bis zu 60 km Reichweite) /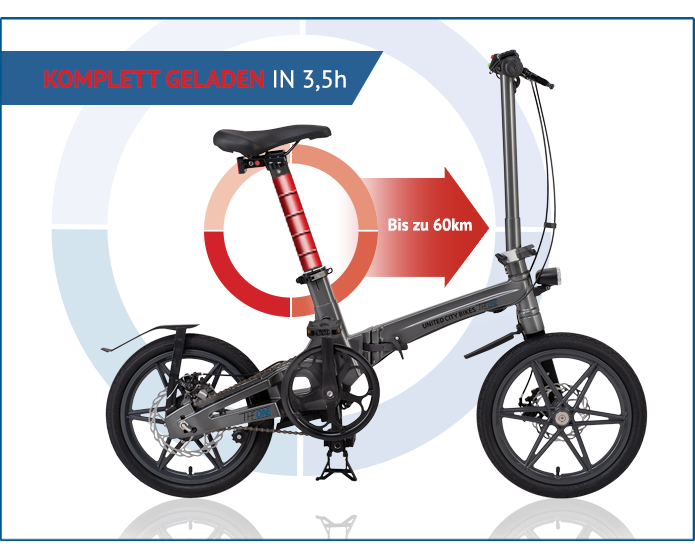 Wo ist die Batterie?
Akkus muss man nicht unbedingt sehen – außer beim Aufladen. THE ONE hat die Batterie in der Sattelstütze integriert, damit das schlanke Rahmendesign beibehalten werden kann. Ladestationen sind noch nicht weit verbreitet, und darum wollten wir sicherstellen, dass Du die Möglichkeit hast, die Batterie aufzuladen, wo immer Du möchtest und ohne Dein Fahrrad zum Beispiel die Treppe hinauftragen zu müssen.
Entferne  einfach die Sattelstütze, um die Batterie zum Laden herauszunehmen, egal ob in Deiner Wohnung oder in Deinem Büro. Wir verwenden modernste Batteriezellen namhafter Hersteller wie Samsung und Panasonic. Mach eine Tour mit Deinem THE ONE und das mit nur einer Ladung die für eine Fahrt von bis zu 60 km ausreicht!
/ Wasserfest /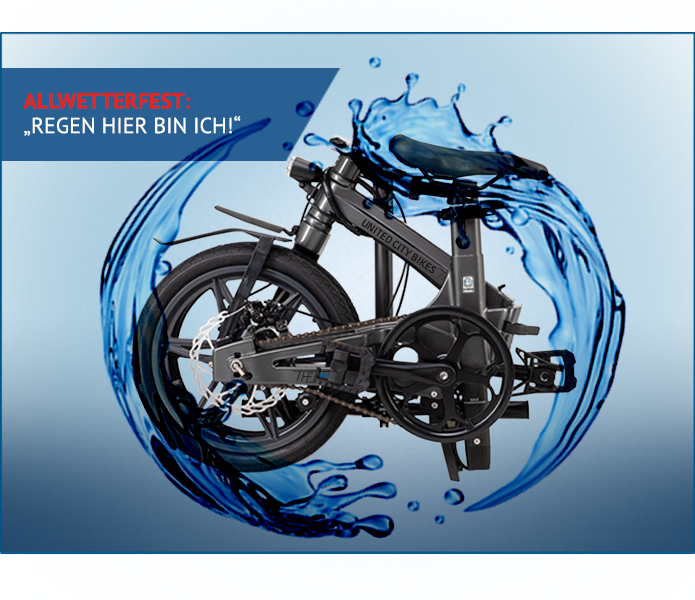 THE ONE ist perfekt für die tägliche Nutzung gedacht. Egal bei welchem Wetter
der aus einer hochwertigen Magnesiumlegierung gefertigte Rahmen wurde in einer Premium-Technologie gefertigt, ist sehr robust und gewährleistet 100% Wasserdichtigkeit des elektrisches Systems.
Alle elektrischen Anschlüsse sind im Rahmen integriert und nicht den äußeren Bedingungen ausgesetzt. Unabhängig vom Wetter ist THE ONE das ultimative Citybike und der perfekte Partner, mit dem Du jeden Tag durch den Großstadtdschungel navigieren kannst!
/ Hochleistungsmotor /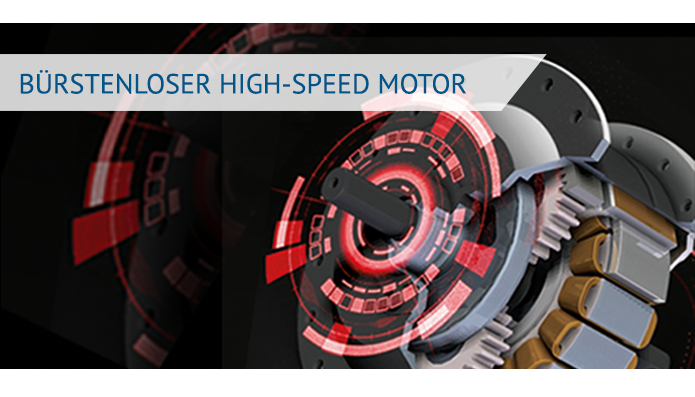 Maßgefertigt für höchste Ansprüche.
THE ONE verfügt über einen 250-Watt-Hochgeschwindigkeitsmotor (bürstenlos), der eine extrem hohe Energieumwandlungsrate von bis zu 95% ermöglicht. Dies entspricht einer um 30% höheren Leistung im Vergleich zu einem herkömmlichen Motor. Höhere Effizienz bedeutet längere Strecken und weniger Energieverbrauch für die Batterie!
Die US-Version ist mit einem Power Assist System (PAS) und einem Daumengas für den dauerhaften elektronischen Modus (Höchstgeschwindigkeit 32 km/h) ausgestattet. Die EU-Version verfügt über einen pedalunterstützten Modus (Höchstgeschwindigkeit 25 km/h), um den europäischen Sicherheitsvorschriften zu entsprechen. Weiter und schneller fahren! Dieses E-Bike ist für Pendler und Radfahrer aller Fitnessstufen hervorragend geeignet.
/ Intelligentes und modernes Stadtdesign /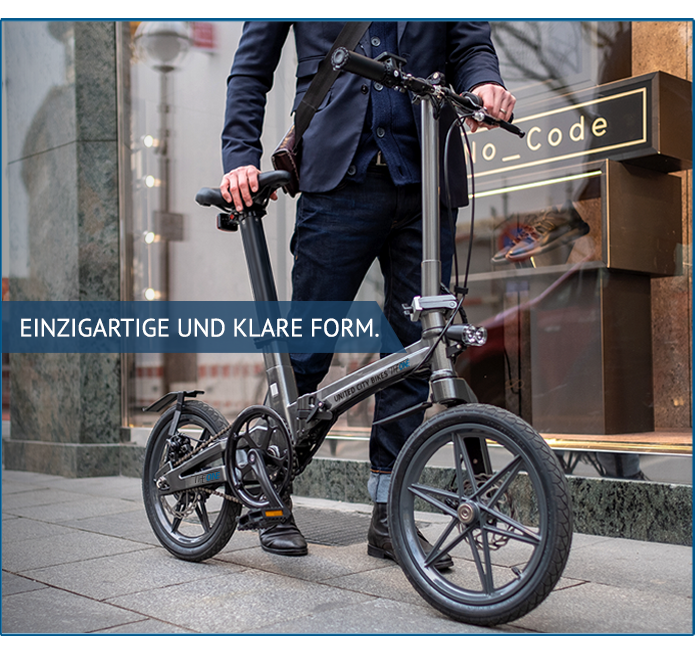 Der neue urbane Look
Das minimalistische Aussehen wird durch das Zahnradantriebssystem und die in der Sattelstütze integrierte Batterie ermöglicht. Der patentierte Rahmen ist von höchster Qualität und verleiht dem Fahrrad einen einzigartigen, schlanken Look sowie eine robuste Rahmenkonstruktion. THE ONE kann bis zu 100kg belastet werden. Die komplette Verkabelung ist optimal am Fahrrad und im Rahmen integriert, wodurch das komplette Rad wasser- und wetterbeständig ist. Das patentierte praktische Pedal-Stützfußsystem lässt das Fahrrad stabil alleine stehen.
/ 20 Patente für das beste Fahrerlebnis /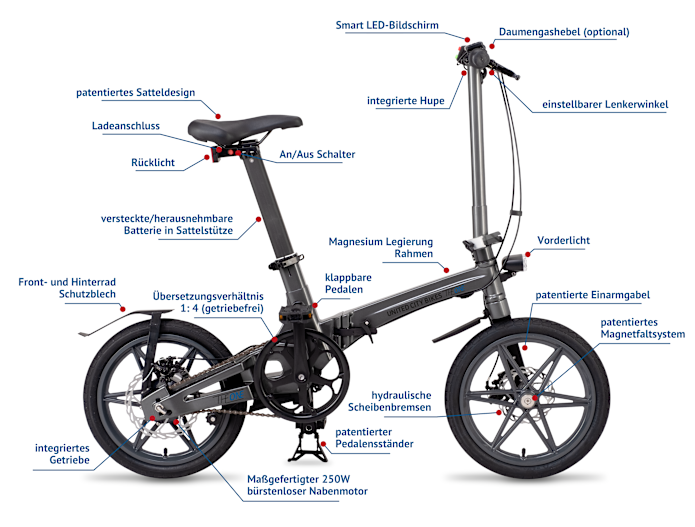 / Ein genauer Blick darauf, was THE ONE zu dem ultimativen City Bike macht /











The Lightest Electric Folding Bike!
Product Code: hot sales
Availability: In Stock
Return Policy

Returns accepted if product not as described, buyer pays return shipping fee; or keep the product & agree refund with seller.
Seller Guarantees:
Payment: